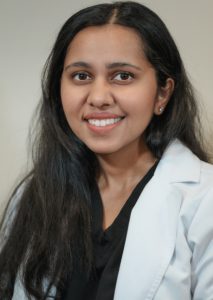 Dr. Hiral Patel is a dedicated and skilled general dentist who is passionately committed to transforming smiles and providing comprehensive dental care. With a focus on patient well-being and comfort, Dr. Patel strives to deliver exceptional dental experiences that leave lasting, positive impressions.
With a wealth of knowledge and expertise in various aspects of dentistry, including preventive care, restorative treatments, cosmetic dentistry and oral health education, Dr. Patel takes a meticulous approach to diagnostics and treatment planning to ensure that every patient receives personalized care tailored to their unique needs.
Dr. Patel earned her Doctor of Dental Surgery degree from the University of Detroit Mercy School of Dentistry, where she honed her clinical skills and deepened her understanding of dental sciences. Committed to staying at the forefront of advancements in dentistry, she regularly engages in continuing education to enhance her skills and offer the latest treatment options to her patients.
Her practice philosophy centers around putting patients at ease while delivering top-quality dental care. Dr. Patel believes in fostering open communication and active collaboration with her patients, ensuring they have a clear understanding of their oral health and treatment options. Your comfort and confidence are her priorities.
Dr. Patel is dedicated to incorporating the latest dental technologies and techniques into her practice. By staying up to date with the latest advancements, she can provide more accurate diagnoses, minimally invasive treatments and superior outcomes, all while reducing treatment time and discomfort.
Beyond the dental chair, Dr. Patel is committed to giving back to the community. She actively participates in oral health awareness campaigns, community workshops, and educational seminars to promote dental wellness and hygiene.
She firmly believes that learning is a continuous journey. Through regular attendance at dental conferences, workshops, and study clubs, Dr. Patel remains devoted to refining her skills and expanding her knowledge to ensure she provides the best possible care for her patients.
When you choose Dr. Hiral Patel as your general dentist, you are entrusting your oral health to a compassionate professional who is committed to helping you achieve a healthy, radiant smile. Let her guide you on the journey to optimal oral wellness, where your comfort and confidence are her top priorities.
Meet Our Team
At Healthy Smiles Bay Village, each of our team members is focused on patient care. We strive to make you feel comfortable during your visit with our dentist, Dr. Hiral Patel, and to make sure you always feel welcome. We invite you to call us at 440-892-1810 to discuss questions your concerns you may have about your upcoming appointment, and we will do everything we can to take care of you. We hope to see you soon for your dental care in Bay Village, Ohio.
Miranda joined Healthy Smiles Bay Village in 2023 and is currently going to school to become a dental hygienist. Her job as a receptionist is to ensure that patients receive a warm welcome, and make sure they get scheduled for the care they need at a time that works best for them. Miranda's goal is to make your visit as easy as possible.
Julia
Insurance Coordinator
Julia started working at Healthy Smiles Bay Village in 2022 as an insurance coordinator. She loves the family atmosphere and how everyone is more close-knit when compared to the larger companies she has worked for. Julia plays a crucial role in simplifying the complex world of dental insurance for our patients and is passionate about ensuring that you receive the best care while maximizing your benefits. Her hobbies include baking, photography and spending time with family.
Kaitlin is a registered dental hygienist hailing from the beautiful town of Huron, Ohio, and joined Healthy Smiles Bay Village in 2021. She earned her degree in dental hygiene from Lorain County Community college, where she learned the importance of oral health. Kaitlin is dedicated to helping our patients achieve and maintain healthy smiles. When she is not busy in the dental office, you can often find her indulging in her creative side through painting and strumming the strings of her guitar. Family is incredibly important to Kaitlin, and she cherishes every moment spent with her wonderful daughter. Life is a beautiful canvas, and Kaitlin strives to bring joy and positivity into every aspect of it.
Doreen joined Healthy Smiles Bay Village in 2004. As a dental assistant, she takes pride in making every patient feel comfortable throughout their appointment. She works closely with Dr. Patel to ensure that visits run smoothly and that patient needs are met. Doreen has nurturing and caring qualities and loves to be with her family in her free time.